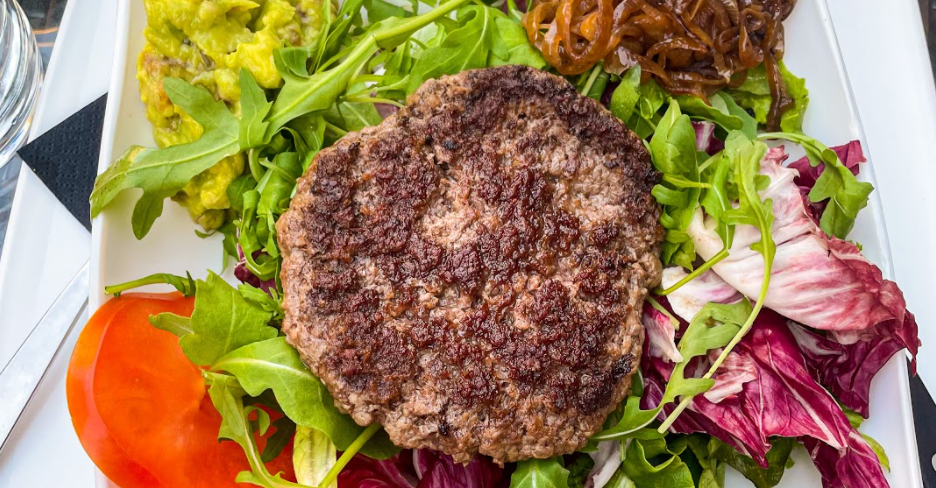 C

rispi's, a popular burger joint here in Arezzo, offered the perfect solution to my craving for a burger that kicked in less than a week after arriving. As a student at The University of Oklahoma in Arezzo, we have dinner vouchers for local restaurants, meaning we get access to a limited menu. Lucky for me, Crispi's accepts vouchers. 
They happily greeted our group of 12 and sat us outside at a long table, set with menu placemats and perfectly aligned silverware. Our laughter and loud conversations fit right in with the lively environment of the street. The English voucher menu our waiter brought us was very helpful, and we also had access to the full Italian menu with burgers, pasta and a QR code to view photos of every dish.
The service was friendly, but we had a hard time keeping up with their fluent Italian. We did our best and ended up ordering by pointing to our selections on the menu. 
I had the Chianina salad, basically a burger salad, while everyone else ordered a bacon cheeseburger or margherita pizza. The fries were an extra charge (2 euros) but I just had to try an Italian version of French fries.
In addition to the pizza and burgers, they offer a full beer and wine list. I shared a bottle of the house white, or Casa Blanco as they call it. For only 15 euros, it was a little dry but good for the price considering we got the opportunity to drink wine by an energetic Italian street, waking up for nightlife. 
The beer lovers in the group ordered all different variations and happily downed them. A pint is 6 euros, and hardly anyone had just one. The drinks took around 10 minutes to arrive after we ordered from our waiter. 
My "burger salad" was just what I needed after eating pasta for a week straight. It was piled with grilled onions, tomatoes and guacamole. The standard Italian dressing of olive oil and salt came on the side. However, I'd be lying if I said I didn't want ranch dressing. Just a head's up: you won't find ranch anywhere in Italy!
The margherita pizza was fresh and thin, and the bacon burgers looked juicy and thick. The bacon here is definitely not microwaved- you can taste the richness of the fat and the saltiness of the meat. 
All burgers range from 12 to 17 euros depending on the toppings they offer. Fried eggs, guacamole, bacon and even mayo are possible additions to these creations. Crispi's offers a familiar solution to an American missing traditional food. 
Maybe it was the additional 112 euros we spent on wine, beer and extra fries, but the owner of the restaurant happily brought out a round of complimentary limoncello shots. They taste fresher here than at my go-to bar in Norman, Oklahoma called The Porch. 
While I don't want to make Crispi's a regular spot since our time here in Italy is limited, it is definitely a safe bet for a hearty meal that reminds any American of home. If I ever come back to Arezzo and get a little homesick, I'll be sure to grab a bacon cheeseburger. 
Editors: Grace Tipps, Aly O'Shea, Taylor Glissman
Photographer: Kaki Glieber