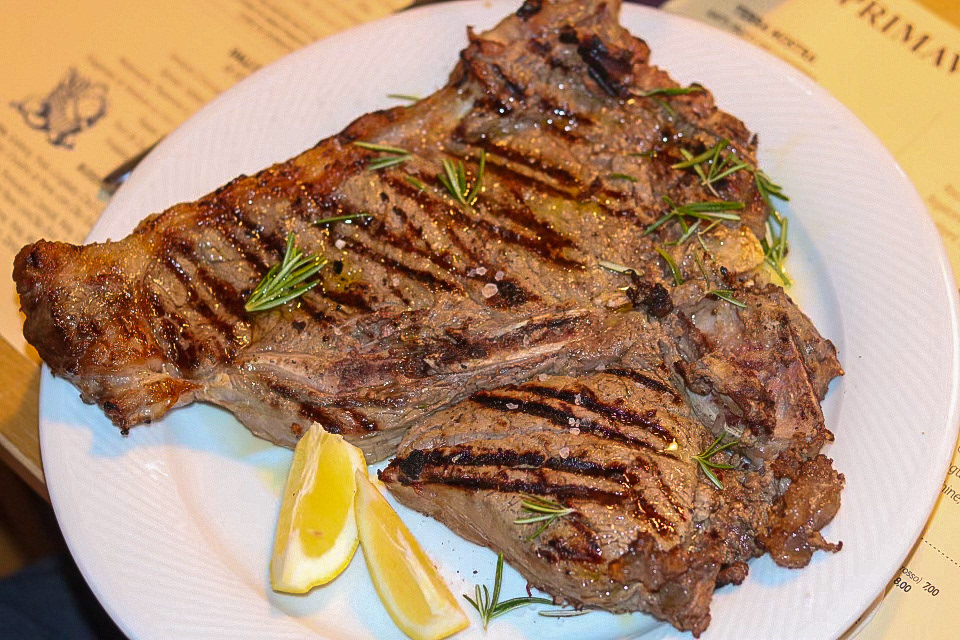 O

steria

dei Mercanti is a small yet welcoming restaurant in the heart of Arezzo. It was the first restaurant we visited when we arrived in Italy, and it was so delicious we came back not once, but twice. The setting is like no other; it has dim lighting with a rustic feel and a patio that is to die for. The enclosed patio is homey with neutral colors and twinkling string lights surrounding you while you enjoy your meal. The staff is nothing but charming and made us feel like we were locals instead of foreign Americans that barely knew a sliver of Italian.
Walking into the restaurant for the second time since arriving in Arezzo, the familiar smells floating in the air engulfed me with pleasure. Milky mozzarella, doughy pizza crust, floury noodles and tangy pasta sauces crowded my nose. Experiencing the smells again reminded me of how delicious our first meal was, and excitement filled me when thinking about trying a different dish at Osteria dei Mercanti.
A friendly waitress seated my group of friends and I in the enclosed patio. She smiled brightly at us and appeared extremely pleased to have OU in Arezzo students back in her restaurant following the pandemic. The wooden tables and chairs gave an unpolished aesthetic that gave the atmosphere a cozy feel. As my friends and I waited for our appetizers and meals, the smells of juicy tomato and pungent basil drifted into the air. The waitress presented a beautiful plate of bright red tomatoes with spongy mozzarella sprinkled with tiny leaves of basil: an Italian classic, caprese salad. Biting into the tomato and mozzarella mixture, tomato juice bursted into my mouth with the creamy and light mozzarella complimenting it beautifully. The dash of basil on top pulled everything together perfectly, making the caprese salad one of the best I have ever had.
For my main dish, I settled on one of my favorite meals I've had during my time in Italy: carbonara. I was a bit nervous to try the carbonara at Osteria dei Mercanti because I had high expectations from my previous experiences with carbonara at other restaurants. The plate put in front of me shouted at me with a deep yellow color and a savory and buttery smell. The bites I took of their carbonara were rich and savory. The egg cream made the dish creamy and smooth, and the black pepper added the perfect amount of spice.The noodles were chewy and "al-dente," which is the ideal consistency for pasta. Every bite was magnificent, and I ended up devouring the entire plate. I have visited Osteria dei Mercanti twice now and I definitely see a third visit in my future.
Editors: Grace Tipps, Aly O'Shea, Taylor Glissman
Photographer: Kaiden Patch