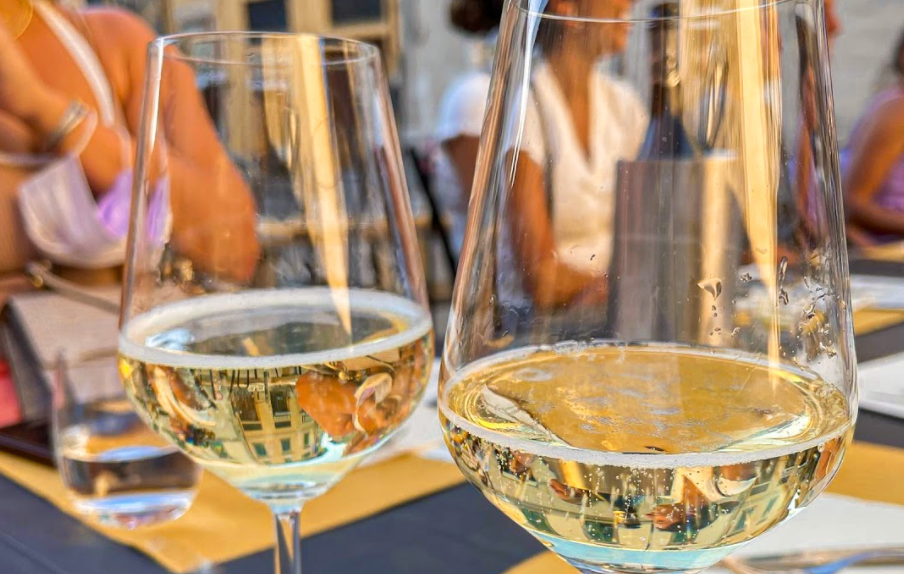 P

eo

ple love to celebrate. The free food and long nights leave many wanting more. If you play your cards right, you will have just enough pleasure where you don't need Advil the next morning. Prosecco sparkling wine is the perfect companion for any celebration because of its bubbly personality and witty quips. 
The dark bottle gives the illusion of a gloomy liquid sputtering out of the top. However, you are delighted to find the true nectar that lies inside. All of a sudden, you know why earlier civilizations were fascinated with gold. The shiny substance reflects in your eye, showing promise. 
It is a shimmer of dreams. The almost clear liquid represents your life. Upon a closer look, you start to see all the fine details that make each person unique. Every memory represents a flake of gold inside the entire glass. It isn't until you take a step back that you see the whole picture of a colorful and experienced life. 
The flavor of this magical gold liquid matches its appearance. It's the same as seeing a nice house with a fancy car out front to match it. It's a complete experience. There isn't much of a smell upon first attempt. It's a crate that doesn't give you a peek inside. It's not until you take a drink that you start to notice all of the aromatics and tastes. 
How can you be in a pool and claim you are dry? In the same way, it seems counterintuitive to have a drink that tastes dry. The flavors of sweet and sharp create a combination that leaves a craving for more. The drink constantly makes you believe you didn't just take a sip. It's the perfect con artist, stealing without you noticing until later.   
The taste of Prosecco is the perfect plus-one to any occasion. She's friendly with everyone but not too friendly where she makes situations awkward. She plays all the party games with you. She can sing loud to pop music or sing the blues for a calmer night. The capabilities she has create a feeling of loneliness when she is no longer there. 
Once you pop the bottle, Prosecco starts to tell you about her life. She talks about the seasons of tree leaves falling and long hot summer days. She talks about the drought which brought her to the bottle earlier than she expected. She lets you smell her perfume. She smells a bit like your breath after a night of drinking, but with a much better after taste. 
Prosecco hates to talk about herself, though. She just gives you the highlights. She wants to keep spirits up and tell you crazy stories from college. She doesn't want to talk about her dull job or family. She is there for a good time, not a long time. 
The way the bubbles seem to last all night makes you feel the young moon in the sky. Most drinks become watered down or too warm to enjoy. Prosecco has a unique quality of lasting all  night. The small bubbles float from the glass into your mouth. It never gets watered down or gives the illusion of time passing. 
Prosecco turns any gathering of people into a celebration. The way it lifts up a room is quite magical. You must mine through a lot of rocks to find a shimmer of gold, but once you do, you reach the gold standard.
Editors: Grace Tipps, Aly O'Shea, Taylor Glissman
Photographer: Kaki  Glieber