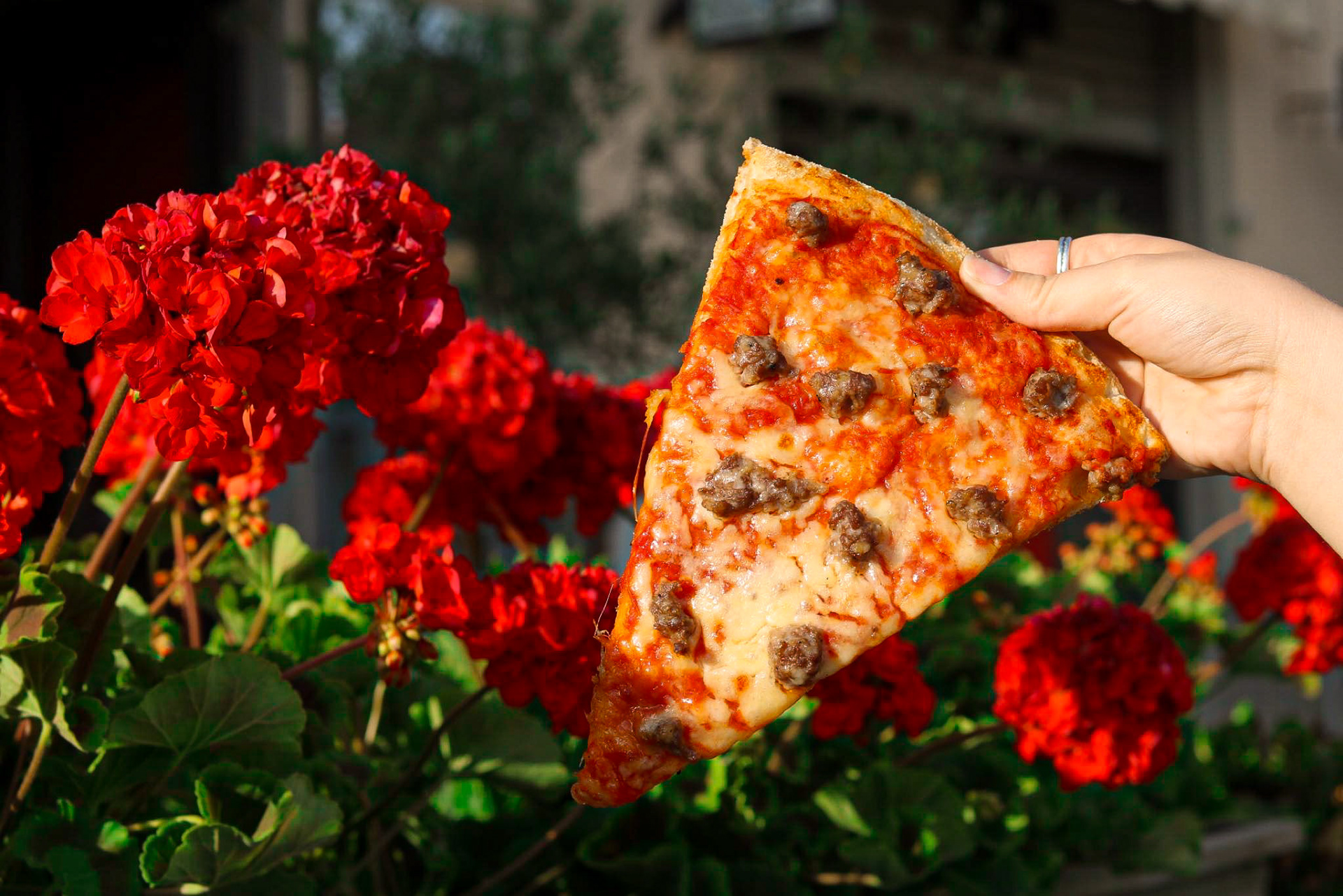 Q

ui

te honestly, I expected pizza in Italy to absolutely blow me away. I'm a big fan of pizza from the states, but I always drea

mt of trying a slice from Italy, the dish's birthplace. Foodies and travelers rave about Italian pizzerias and how flavorful the meals are. During my month studying abroad in Arezzo, Italy with the University of Oklahoma, I hoped I would get the same experience.
You may have the same question I did about Italian pizza: "What makes it so special?" In the states, pizza is often a heavier meal. U.S. crusts range from extra thin to a cheese-filled deep dish. In contrast, Italian pizza is thinner and lighter, with a slightly raised outer crust and flimsy dough underneath the toppings and sauce. Italians often eat pizza on the go, which explains why I always see pizza shops along shopping strips and train stations here. The Italian dish needs to be lighter and easier to eat between errands or travel. Beyond the crust, Italian pizza's biggest distinguisher is the sauce. American pizza sauce is tangy and slow-cooked, with a strong tomato flavor. Italian pizza sauce is usually made with olive oil, pureed fresh tomatoes, garlic and oregano which creates a lighter and sweeter flavor. 
I'm disappointed to say the Italian pizza I've tried in my first two weeks traveling around Italy has yet to reach my overly high expectations. The flavors are usually good, and I enjoy the softer crust, but no slice has blown me away. 
The same statement goes for Qì pizza, a small pizza shop near Piazza di Sant' Agostino in Arezzo. I first tried a slice after a few friends ordered pizzas to the Rooney Family Center, the dormitory for OU in Arezzo students. Although a small pizza only cost nine euros, we didn't think the pizza was worth the price. The pie arrived lukewarm and visually unattractive. The cheese looked rubbery, and the crust appeared flat. The solidified cheese came off in chunks with every bite. I hadn't ordered any pizza that night, but I could tell my friends were disappointed with their food.
I decided to give the shop another chance one afternoon after class. Although many Italian pizza shops are open throughout the day, Qì's website says the restaurant does not open until 16:00 (4:00 p.m.). The shop was cute: there were outdoor tables and bright red flowers with a view overlooking the piazza fountain. The inside was very small, with a glass display of pizza and just enough walking room for a few customers to order food. When my friends and I arrived around 18:00 (6:00 p.m.), there weren't very many options available. I expected a sit-down restaurant that served full-sized pies. Instead, I found another grab-and-go pizza shop.
I wanted to try their signature flavor, the Qì pizza, which has truffle, stracchino, mozzarella and sausage, but there weren't any slices available. Instead, I ordered a slice of salsiccia (sausage in Italian) for only two euros. The kind workers heated the slices quickly, and we had our food less than five minutes after entering the shop.
The pizza was warm. The flavors were rather mild; the sausage's taste was barely noticeable, and the sauce was a bit sweet. It had a classic Italian crust with a grainy, thin bottom and thick outer crust. Although it was tasty, I still found the slice comparable to pizzerias in malls from the states. 
All things considered, Qì pizza isn't a bad choice. The slices were enjoyable, and the cute outdoor area only elevates the experience. I would recommend eating the pizza at their shop instead of ordering delivery to get a fresher slice. However, if you're looking for an out-of-this-world Italian pizza experience, you won't find it at Qì. I'm not sure where to find this legendary pizza in Italy yet, but when I find it, you'll be the first to know.
Editor's Note: Taylor eventually found the best pizza in Italy. It was in Sorrento, a small town outside Naples, the birthplace of pizza. The dish at Aurora Pizzeria was a perfect example of a perfect Italian pizza and left the writer extremely satisfied. She found this pizza less than six hours after writing the article.
Editors: Grace Tipps, Aly O'Shea, Taylor Glissman
Photographer: Kaki Glieber