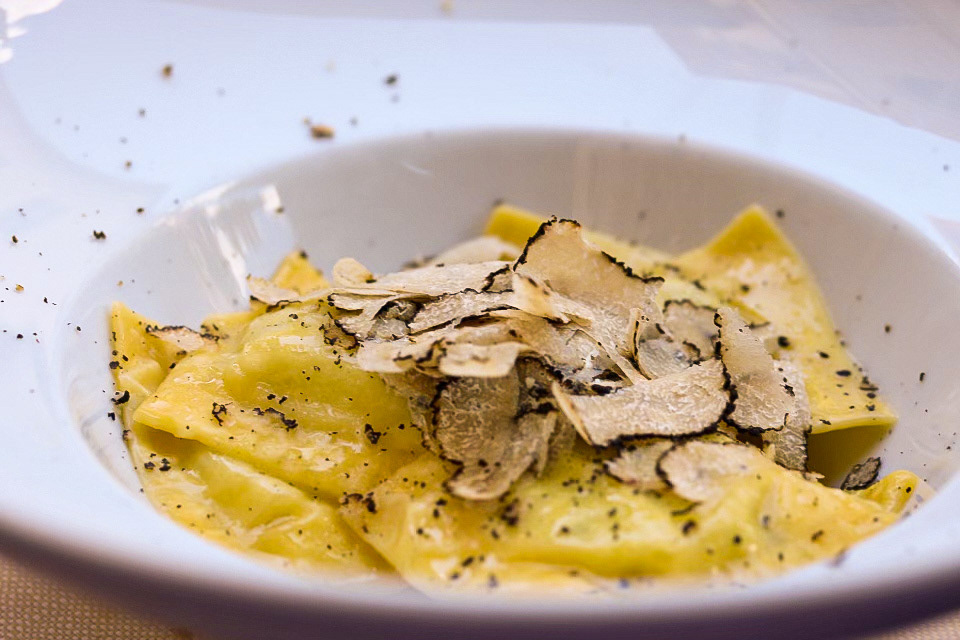 R

eturning

home to America is a challenge our Gaylord in Arezzo class is beginning to discuss, and we are all very sad to start that conversation. I think we can all agree that one aspect of Italy we are going to miss the most is the amazing food, especially the massively admired Italian favorite: pasta. Ravioli is a specific type of pasta that I grew to love during my five weeks here, and I definitely have chosen it as my favorite dish. 
During our first few days living in Italy, the Gaylord in Arezzo director Charlotte Duclaux pointed out a restaurant called Formaggeria Biancolatte during our walking tour. She described the restaurant as having some of the best cheese she's ever had in Arezzo. Being the cheese fanatic I am, I knew I had to try it out. With the company of a couple of friends, we visited Formaggeria Biancolatte within the next few days because of Charlotte's raving review. 
Entering the establishment, I was struck with smells of fresh mozzarella, sharp parmesan, creamy ricotta and more. I realized at Formaggeria Biancolatte that there was a higher variety of cheese aromas than I was used to. I turned to my right and saw a huge glass case filled to the brim with an assortment of cheeses. After learning this place was known as a cheese factory, I knew I had to try the ravioli.
When the bowl of ravioli was placed in front of me, my eyes brightened looking at yeasty yellow-colored squares of pasta with the signature fork indentations along the perimeter of each piece of pasta. Flaky black and white pieces of truffle sprinkled the tops of the ravioli, and the entirety of the dish screamed "delicious" to me. My first bite of pasta bursted flavors of tangy and soft cheese, tender and doughy pasta and pungent and deliciously funky truffle. Spinach filling that was garlicky and stringy also contributed to the assemblage of flavors that formulated the tasty ravioli.
Between the versatile exhibition of cheeses to look at, the combination of milky ricotta with moist spinach and piquant truffle flakes, the ravioli was heavenly. With each bite of the ravioli dish at Formaggeria Biancolatte, I continue to daydream about when I will return to get to experience the mouth-watering pasta dish again.  
Editors: Grace Tipps, Aly O'Shea, Taylor Glissman
Photographer: Kaiden Patch