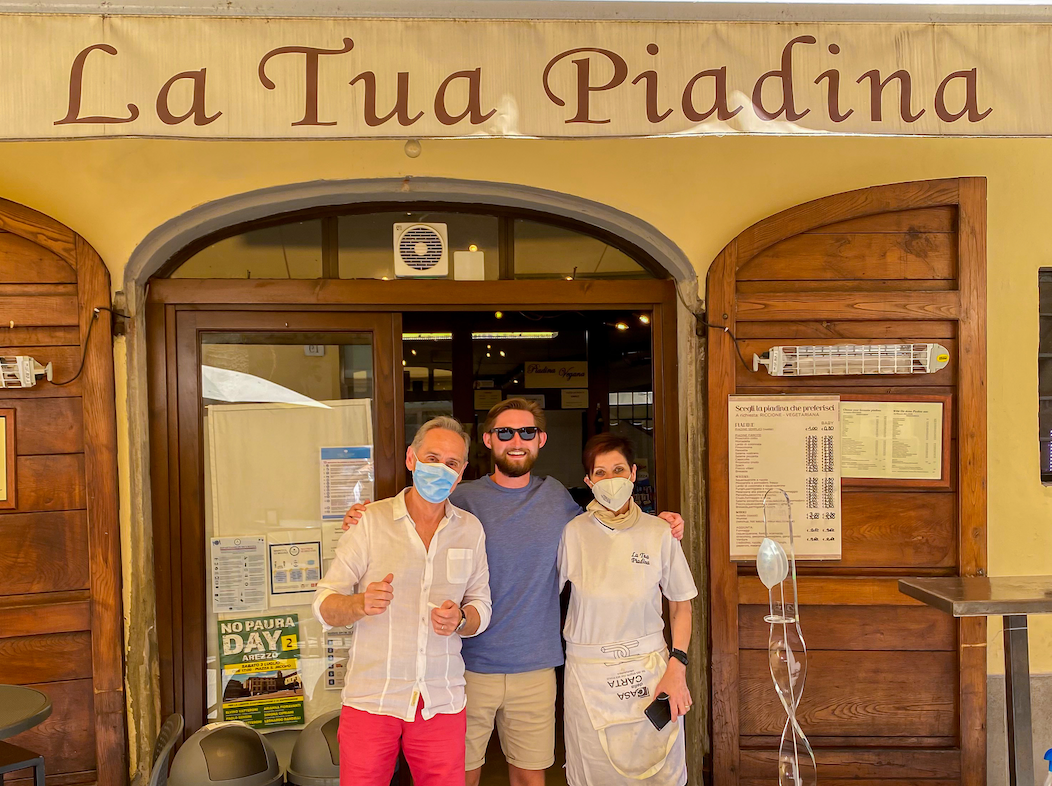 "

X

-marks the spot" is a common term which refers to the Hollywood idea that pirates would mark their maps with an "X" on spots where you could find buried treasure. These spots are typically hard to get to, well-hidden, and lowkey. They are not common.
There are a few common spots in Arezzo where young people tend to stick around. Piazza Grande and its restaurants are one of Arezzo's main attractions. Piazza della Badia buzzes with nightlife. Individual places like Dal Moro and Zio Pepe receive a steady flow of afternoon lunch-goers. These spots are well-known. Of course, just because a place isn't well-known does not mean it isn't worth your time. 
La Tua Piadina is tucked in a tight alleyway between Corso Italia and Via Madonna del Prato, two larger streets that dominate the attention of pedestrians. I didn't stumble upon La Tua Piadina by accident. It was recommended to me. My friend and I sought out a place for lunch on a sunny Monday afternoon. Tired of pasta and pizza, we wanted something new. A couple strolls down winding cobblestone streets didn't offer us what we desired. Defeated, we turned to what many view to be the lowliest joint in all of Arezzo: Chicken Taste, a Frankenstein attempt to recreate American fried chicken.
My friend and I approached the bright blue and red doors of Chicken Taste with caution. A man scoffed from behind me.
He wore a tan shirt with short sleeves and black slacks. His brown shoes were shiny. The man had white hair and a wrinkled face mostly covered up by his mask. He wagged his finger and, in broken english, begged us not to go.
Humored by his passion, we asked where we should go instead. He recommended La Tua Piadina, pointed us in the right direction and went on his way. Despite not knowing what a piadina was, we listened and started walking.
Locals sat at tables with umbrellas outside of La Tua Piadina. Some were alone and quietly ate their food. Others sat in groups of three or four and laughed between bites. A thin man in a tight white polo shirt greeted us at the open door with a smile and gestured us inside.
The restaurant's inside was small. A tiny table in front of a wooden bench attached to a wall would have, in non-COVID times, allowed waiting patrons to shade themselves from the sun. Instead, it served as storage for napkins, to-go containers and plastic cutlery.
A sign to my right displayed the menu. It didn't mean much to me, since I didn't know what a piadina was, but I recognized the Italian words for tomato and different meats and cheeses.
A woman behind a plastic COVID shield waited for my response with a pen and paper in her hand. I ordered a piadina with tomato, pecorino and salami. She nodded, wrote down my order and took my payment. My friend ordered one with crudo and mozzarella, and we sat outside.
Not long after we took our seats, the man in the striped shirt brought us our food. A piadina is a thin italian flatbread folded over a filling usually made of meats, cheeses and vegetables. It's shaped like a taco, but much larger. I smiled and thanked the man for bringing our food.
The piadina was wrapped in paper and was warm in my hands. A heavy, savory scent of oil and salt rose from the salami and pecorino. I took a bite. The toasted flatbread crunched and splintered, leaving a pile of crumbs in my lap. I first noticed the rich, peppery flavors of the meat and cheese. Acidic and citrusy flavors from the tomatoes soon followed.
My friend and I were satisfied with our meal. The piadina was filling, but didn't weigh us down. Before we could leave, the man returned and asked us how we liked it. We shared with him our thanks and praise. He smiled, patted us on the back and urged us to return. I noticed we weren't the only people he spoke to. He made conversation with nearly every table and seemed to know some people as more than just customers.
La Tua Piadina isn't a tourist destination. It's not on a main street. They don't sell a type of food that is universally appealing. Even the signage is discrete.
It is a place where locals gather and eat traditional food from their country. In many ways, La Tua Piadina represents Arezzo: a place that doesn't see many tourists and prides itself on authenticity. However, this doesn't mean tourists aren't welcome. The man in the striped shirt was happy to have my friend and me. He was elated to see us experience food for the first time that he's probably eaten his whole life.
You won't hear about it, but La Tua Piadina is one of the best places to get lunch in Arezzo. With a little searching and some help from a local, my friend and I were able to find it. Though I'm certain there are many other hole-in-the-wall joints here that offer great food. 
This sentiment is not tied to Arezzo, however. One of the many lessons I've learned during study abroad is the value of straying away from the crowded centers of town and venturing off to find lesser-known places, shops and restaurants. Those are the kinds of spots where you get to meet interesting people and make personal connections. I've done that here in Arezzo, and I am excited to do the same when I return to America.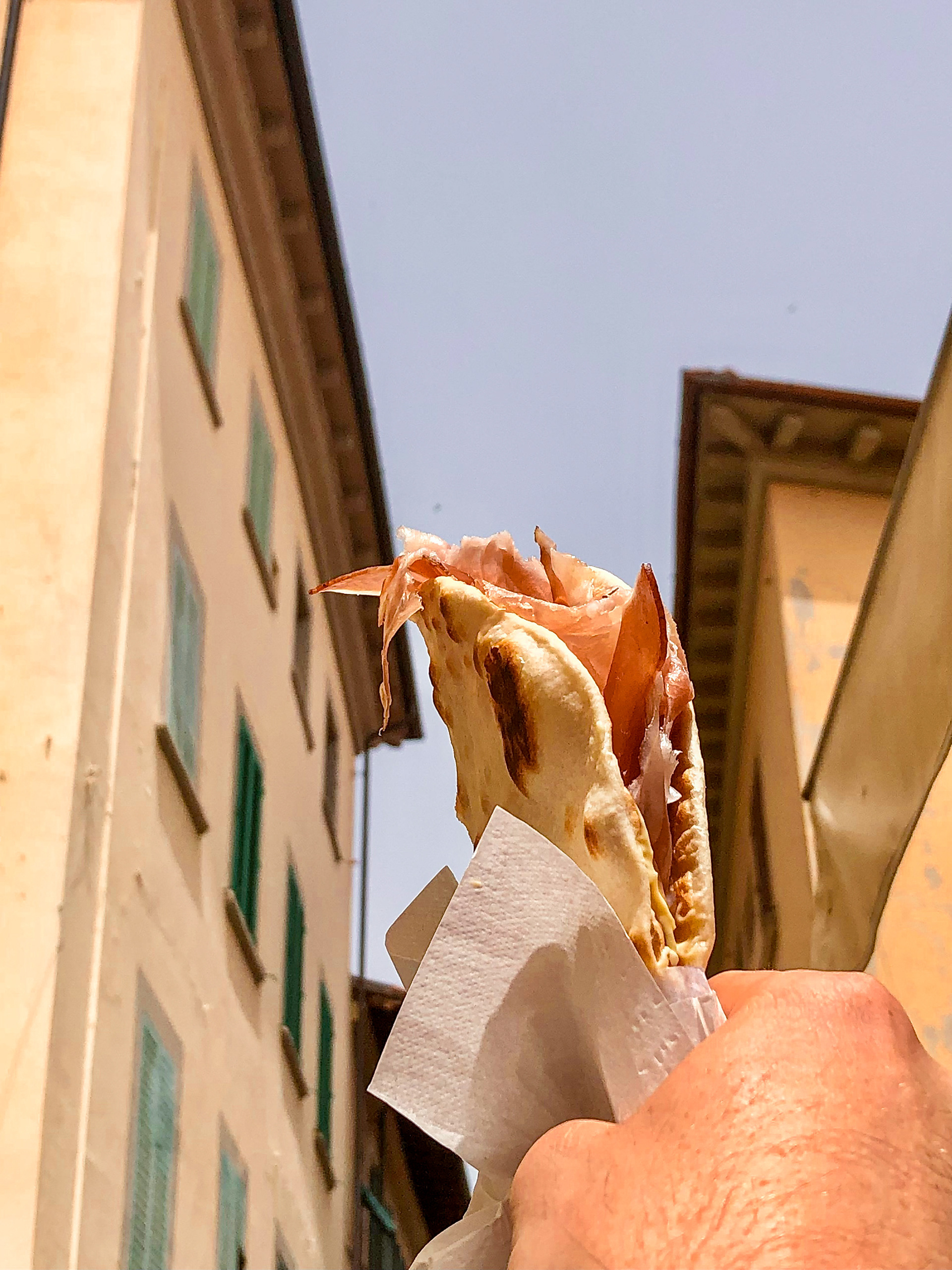 Editors: Grace Tipps, Aly O'Shea, Taylor Glissman
Photographer: David Reinhardt and Emily Turner