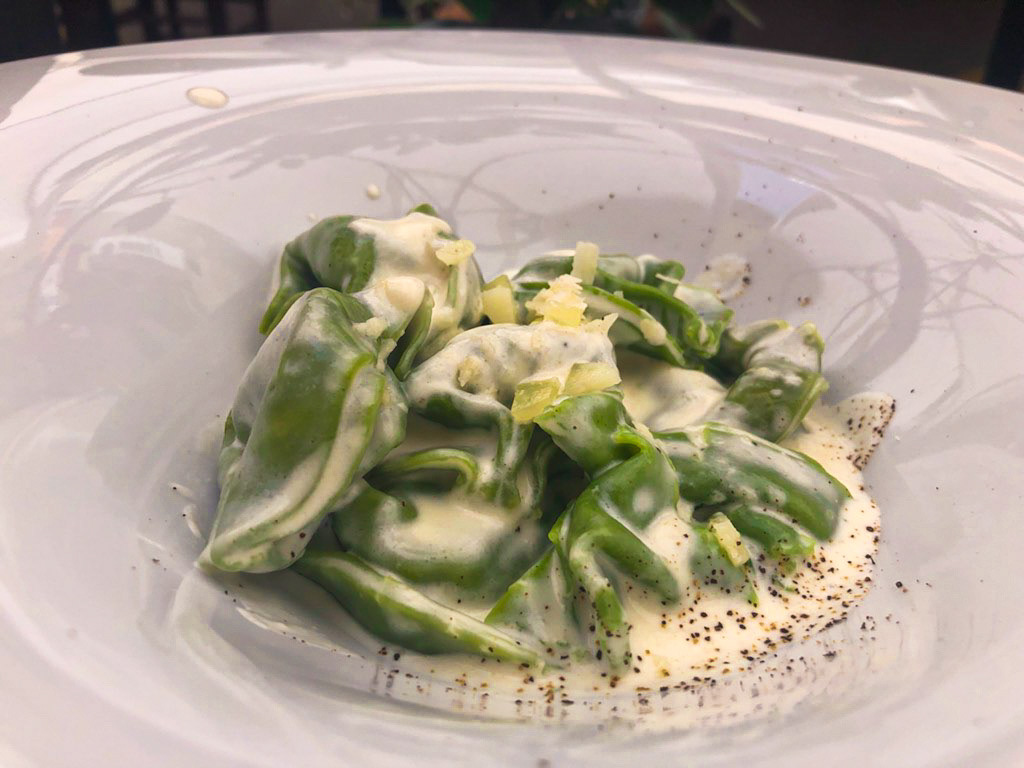 Y

ou

can imagine how living in a culture so heavily centered around the creation, consumption and community of food made my expectations for meals in Italy extremely high. In general, living in Arezzo for four weeks and having the opportunity to assimilate to the Italian culture has been life-changing, and eating Italian food has been palate-changing. While most meals have been exceptional, certain dishes and restaurants stuck out to me as better or worse than others. Read my guide to see what you must get in Arezzo and what you can live without!
I pride myself on being an optimistic person, so I think it's best to start with what I didn't love in Arezzo, so I can end on a positive note. At Mivà, the atmosphere, sparkling wine, fried bread bites and gnocchi are all home runs. The staff is kind, and a manager gave us three (very full) glasses of wine on the house. 
However, if you have a craving for chicken, I would advise skipping Mivà and going straight to Cavour 42; I could go on forever about their grilled chicken that's charred to perfection. While my chicken at Mivà was relatively bland and came with a glob of spinach on top, Cavour 42's was perfectly complemented with herbs and cabbage and left behind a flavorful coating of olive oil. 
Another chicken entree I would steer clear of is Chicken Taste. One food I have (obviously) been craving is chicken. I eat it practically every day in the states, so having mostly carb-loaded pasta and pizza in Italy has been delicious but abnormal. Therefore, I've ordered chicken at many Italian restaurants and consider myself somewhat of an expert. With any level of credibility I may have solicited from you this far in the article, I beg of you: don't go to Chicken Taste. Their fries are forgettable, their chicken is decent at best and their wait time is longer than some sit-down restaurants. If you do happen to find yourself there, order their one redeeming item: the curly fries.
La Brasserie del Vicolo, or as my friends and I affectionately call it, the "green tortellini place," quickly became a favorite of mine on this trip. Parched and tired after a morning of shopping at the local market, a group of us sat down at the first restaurant we could find. An attentive server came by our table and proclaimed the tortelli verdi al formaggio di fossa was the best pasta in Arezzo, so we all decided to test her statement. Spoiler alert: she was right. The al dente tortellini were bursting with Fossa cheese, which literally translates to "cheese of the pit." Fossa cheese gets its name from the unique process of production where the cheese ages in pits and absorbs aromas such as wood, truffles and moss; these distinct flavors, combined with the rich, creamy white sauce and a sprinkle of crumbly parmesan cheese, created the perfect pasta dish. The cheerful atmosphere, colorful cups and kind owners also define La Brasserie del Vicolo. Nestled between the high city walls, cars drive inches from the outdoor seats, but the restaurant feels shielded from the bustling atmosphere. The last time we went, our server let us know that the owner charged us one euro instead of two for the service fee. They even called the chef in early to cook for us since we arrived 30 minutes before opening time. Overall, La Brasserie del Vicolo's infamous tortellini earned the well-deserved label of "best pasta in Arezzo," and I hope you visit and think the same. 
While the name struck me as unusual at first, I have also grown especially fond of the versatile restaurant/bar Dirty Rat. A little pricier than some of the local restaurants, but with high-quality food and drinks, Dirty Rat functions as both a fun nightlife scene and a sit-down spot. Drink-wise, you can't go wrong with a simple vodka sour (which has the perfect combination of bitterness and sweetness) or a glass of sparkling rosé. When it comes to food, the filetto di salmone is one of the best dishes I've had in Italy. The salmon was tender and perfectly cooked, and it flaked into mouth-watering pieces as I cut into it. Placed gingerly on top of a cabbage mixture, flavorful asparagus, creamy dots of sauce and a drizzle of olive oil, the salmon's presentation was almost as spectacular as its taste. The seasoning formed a crunch of crust on top of the fish that created yet another dimension of texture and herb-filled flavor to elevate the meal even further. 
​​​​​​​
Overall, my time in Italy has been defined by great food and great company. I genuinely had a difficult time coming up with my "nays" for this article, as I've had the privilege of eating in a country with such a rich history regarding food. My favorite parts of this trip have been learning how food and identity intertwine and experiencing the unique cultural practices surrounding meals in Italy. I hope that you can also make the journey to Arezzo and find your own favorite spots. Let me know what you think!
Editors: Grace Tipps, Aly O'Shea, Taylor Glissman
Photographer: Emily Turner